Air Carrier GLO To Provide Seasonal Service To Destin-Fort Walton Beach Airport
Regional Air Carrier GLO announced this week that they soon will be soaring into Northwest Florida, providing low-cost, non-stop service from New Orleans, LA and Little Rock, AR.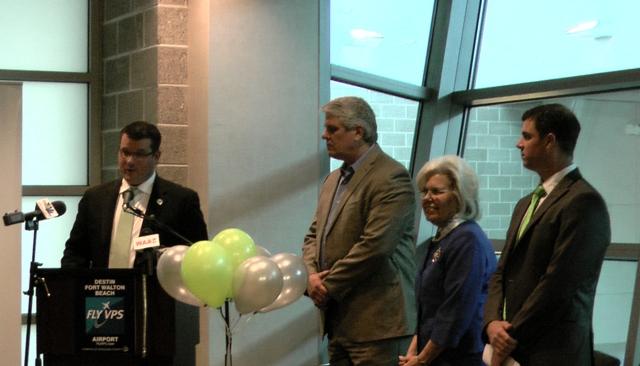 For the Destin-Fort Walton Beach Airport, this is the second partnership with a new airline to be announced in less than a month.
Tracy Stage has been the Okaloosa County Airport's Interim Director since October of 2015. His tenure has been short, but exciting.
In January, VPS added Allegiant Air with seasonal nonstop flights from Cincinnati, OH and St. Louis, MO.
Now, Stage is excited to welcome GLO Airlines to the VPS lineup.
"They came to visit us roughly five years ago to meet with the airport, to meet with the tourist industry and local leadership to better understand the destination," Stage said. "You know these wins don't happen overnight, so over years we've been speaking with them and it's just the right time at the right place for GLO to expand."
GLO was founded in 2013 by Trey Fayard and the service initiated flights in November of 2015.
As with Allegiant, GLO's service will be seasonal.
Beginning March 25, the airline will offer direct flights between Destin-Fort Walton Beach airport and both New Orleans and Little Rock.  One-way, introductory "GLOForIt" fares are $119 (tax included) for the New Orleans route and $149 (tax included) for the Little Rock route.
The flights are currently scheduled for Fridays, Saturdays, and Sundays, with one flight each day to Little Rock and New Orleans, through the beginning of September.
"However, if the demand is there, they'll extend the season or they'll even run it year round," said Stage, adding that it's dependent on utilization of the service.
For the new routes to Florida's Emerald Coast, GLO's operator, Corporate Flight Management, will deploy the Saab 340B aircraft, known for its comfort and reliability.
"We offer a higher touch, a higher service option for our customers," said Mike Welch, who is Vice President of Ground Operations for GLO Airlines and oversees the operations at the various airports they serve. "We've got thirty seats on the aircraft like I mentioned, and each one is very spacious and very comfortable."
Welch also believes the price they offer to get here and the connectivity to the market is something that's attractive, and differentiates their service from Allegiant.
On the new flights, on board service will be provided by a flight attendant and will include complimentary snacks and beverages from the region GLO services, as well as local publications. GLO passengers may also transport up to three bags and one personal item for free.
GLO will be Destin-Ft. Walton Beach Airport's fifth air carrier and increases the number of destinations to nine.
"It's great to get more people who otherwise might not have come so a boom to the tourism industry," said Dr. Rick Harper, Director of the UWF Center for Research and Economic Opportunity.
While, Harper thinks the additional airline service is great for the area as a whole, he says it'll be interesting to see how well some of these new flights catch on.
"It's an open question as to whether people from New Orleans are going to hop on the plane to fly to Northwest Florida or whether they're going to hop in a car to do it," he said, noting that trading the nine-hour car drive from Little Rock for a two-hour flight should not be a tough sell.
VPS officials say the airline is expected to bring in more than $1 million in economic impact to the economy.
Destination and ticket information are available at FlyGLO.com
https://www.legacy-vacations.com/wp-content/uploads/2021/03/legacy_vacations_logo.png
0
0
Ron Webber
https://www.legacy-vacations.com/wp-content/uploads/2021/03/legacy_vacations_logo.png
Ron Webber
2016-02-12 10:49:58
2016-02-12 10:49:58
Air Carrier GLO To Provide Seasonal Service To Destin-Fort Walton Beach Airport